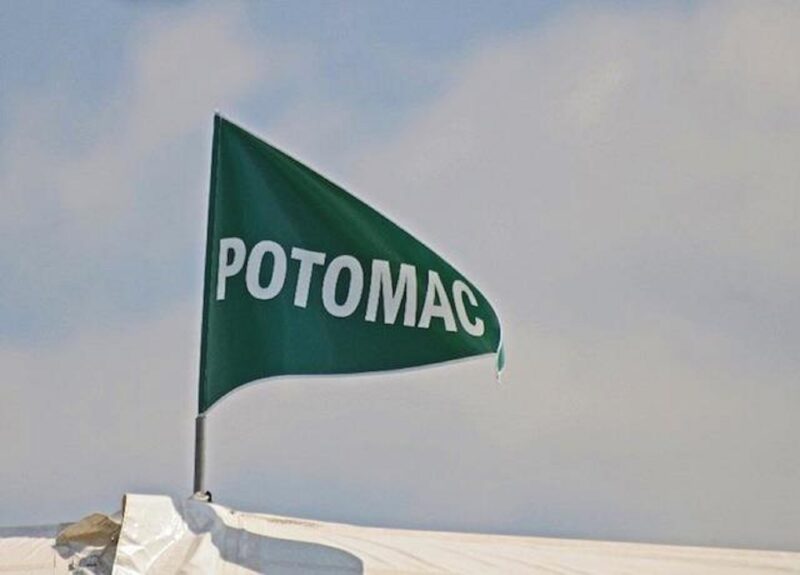 "It's like the international super bowl of Labrador retrievers," said David Heacock, the assistant chair of the show.
The show, known in Labrador retriever circles as "The Potomac," has amassed a huge following in its history. What started as a one-day show in 1975 has evolved into a four-day international Labrador-centric affair.
"This is the largest collection of Labrador retrievers ever gathered in one place at one time," said Buddy Voshell, the event's chief steward.
LRCP Spring Specialty Show Winners
April 12-15, 2022
Frederick, MD
Judges:
Nancy Arbuckle (USA)
Andrew Brown (UK)
Valerie Walters (Canada)
Best of Breed
GCH Hyspire Ghoststone A Tough Nut To Crack
Best of Opposite Sex
Epochs Moccasin Sue
Select Dog
CH Van Dalen IBIM Bruce
Select Bitch
CH Rockycreek's Polar Kiss JH
Best of Winners
Bellwether Paradocs Brisa
Best Owner-Handled
Epochs Moccasin Sue
Winners Dog
Gallivant Broken Vow
Reserve Winner Dog
Bellwether Stalwart
Winners Bitch
Bellwether Paradocs Brisa
Reserve Winner Bitch
Leah Santos
April 13-16, 2021
Frederick, MD
April 14-17, 2020
Frederick, MD
April 9-12, 2019
Frederick, MD
Judges:
Judy Heim (USA)
Ms Vanessa Carmen Malkmus (Germany)
Mrs Jane Rawlinson (UK)
Best of Breed
GCHB CH Lakeside Memoir Of Gallivant
Best of Opposite Sex
GCHB CH Gallivant Big Pine Sarafina On Broadway
Select Dog
CH Nipntuck Well Played
Select Bitch
CH Jonvaler Just Harper Lee
Best of Winners
His Majesty Bella Mare
Best Owner-Handled
CH Nipntuck Well Played
Winners Dog
His Majesty Bella Mare
Reserve Winner Dog
Nipntuck Outlier
Winners Bitch
Gofetch Gallivant Iceberg Alli
Reserve Winner Bitch
Chablais Entre-Nous
April 10-13, 2018
Frederick, MD
Judges:
Mr Jean-Louis Blais (Canada)
Fiona Braddon (UK)
Ms Eeva Rautala (Finland)
Best of Breed
GCH CH Raysun Luna Llena
Best of Opposite Sex
GCHB CH Shalimar's The Animator
Select Dog
GCHG CH Epoch's Moccasin Joe

Select Bitch
GCHB CH Dogwood Cool Mkt Run
Best of Winners
Zinfndel's Shine Bright Like A Diamond
Best Owner-Handled
GCHG CH Epoch's Moccasin Joe
Winners Dog
Cedarlake Lengley That'Ll Do
Reserve Winner Dog
Loretta Labs Hidden Ace At Bolskan
Winners Bitch
Zinfndel's Shine Bright Like A Diamond
Reserve Winner Bitch
Potomac Falls Song Of A Lass That Is Gone
April 10-13, 2017
Frederick, MD
Judges:
Mrs Pauline A Mortier (USA)
Mr Christopher John Mills (UK)
Glenice McClure (Australia)
Best of Breed
CH Bellwether Sweetest Taboo
Best of Opposite Sex
CH Kimleigh Gucci Roll In The Moon
Select Dog
GCH CH Blackwing Superslick
Select Bitch
CH Harbor Run's I'Ll Have Another
Best of Winners
Dickendall Buckstone Hou's He
Best Owner-Handled
GCH CH Blackwing Superslick
Winners Dog
Dickendall Buckstone Hou's He
Reserve Winner Dog
Shadowbrook's Always On My Mind
Winners Bitch
Hardy Of Yang Fan Kennel
Reserve Winner Bitch
Tabatha's Sunfest Mischief
April 12-15, 2016
Frederick, MD
Judges:
Mrs Janis Grannemann (USA)
Mr Sergio Scarpellini (Italy)
Mrs Tanja Nordhues (Germany)
Best of Breed
CH Time Square Ulysses
Best of Opposite Sex
GCH CH Gallivant Big Pine Sarafina On Broadway
Select Dog
GCHB CH Shalimar's The Animator
Select Bitch
GCHS CH Everso's Elephants & Flowers
Best of Winners
Wiscoys Tony
Best Owner-Handled
GCHB CH Shalimar's The Animator
Winners Dog
Wiscoys Tony
Reserve Winner Dog
Devonshires Huckleberry Finn
Winners Bitch
Wiscoys Antonette
Reserve Winner Bitch
Shadowbrook's Creator Of The Whistle Stop Cafe
April 7-10, 2015
Frederick, MD
Judges:
Claire White-Peterson (USA)
Mrs Anja Verbeek (Netherlands)
Mr G Johnson (UK)
Best of Breed
GCH CH Saddlehill Late Knight Scramble
Best of Opposite Sex
GCH CH Piccadilly's Hidden Covey JH
Select Dog
GCHB CH Epoch's Moccasin Joe
Select Bitch
CH Blackwing The Spice Is Right
Best of Winners
Epochs Jolly Folly
Best Owner-Handled
GCHB CH Epoch's Moccasin Joe
Winners Dog
Epochs Jolly Folly
Reserve Winner Dog
Zinfndel Lengley's Big Papi
Winners Bitch
Atlantic's Haut-Brion
Reserve Winner Bitch
Paradocs Regina Dolorem
April 8-11, 2014
Frederick, MD
Judges:
Mrs Susan E Huntzinger (USA)
Mr Giuseppe Masia (Italy)
Mrs Judith Charlton (UK)
Best of Breed
CH Paradocs Delians Scrubbing In
Best of Opposite Sex
GCH CH Blackwing Izzy
Select Dog
GCH CH Shalimar's The Animator

Select Bitch
GCH CH Belgairn's Mighty Quinn Of Summit View Ranch
Best of Winners
Blackwing Superslick

Winners Dog
Blackwing Superslick
Reserve Winner Dog
Queijeiro El Moro
Winners Bitch
Thimbles Tantalize To Bellwether
Reserve Winner Bitch
Frakari's Movin' On Up
April 9-12, 2013
Frederick, MD
Judges:
Jacqueline Mischou (USA)
Hannele Jokisilta (Finland)
Mr P Iversen (Norway)
Best of Breed
GCH CH Gateway's Nothin' But Trouble
Best of Opposite Sex
CH Danbridge Ring In The New
Select Dog
GCH CH Epoch's Moccasin Joe C Skiba
Select Bitch
CH Nipntuck Outlaw
Best of Winners
Ancroft's Gentlemen Player
Winners Dog
Ancroft's Gentlemen Player
Reserve Winner Dog
Tabatha's Sunfest Donnybrook
Winners Bitch
Lobuff's National Velvet
Reserve Winner Bitch
Beechcroft Midnight Rose's Baccara
April 10-13, 2012
Frederick, MD
Judges:
Dr Michael J Woods (Canada)
Mr Richard L Edwards (UK)
Mrs Marilyn Elizabeth Prior (UK)
Best of Breed
GCH CH Clearcreek Bonaventure Windjammer
Best of Opposite Sex
GCH CH Briarwood's Eye On The Prize
Select Dog
GCH CH Danbridge Henry
Select Bitch
GCH CH Viking Hil'Die Tanzbarin RA MH
Best of Winners
Tabatha's Glamour
Winners Dog
Inselheim Up To Citadel
Reserve Winner Dog
Caer Bren Wickham
Winners Bitch
Tabatha's Glamour
Reserve Winner Bitch
Tabatha's Sadie B
April 12-15, 2011
Frederick, MD
Judges:
Mrs Clare Senfield (USA)
Mrs Gunilla Ek (Spain)
Mrs Linda M Porter (UK)
Best of Breed
CH Tabatha's Pristine
Best of Opposite Sex
GCH CH Danbridge Henry J
Select Dog
CH Hyspire Texas Hold 'Em
Select Bitch
GCH CH Blackwing Izzy
Best of Winners
Belquest Marie Claire At Waterberry

Winners Dog
Epoch's Captain Kidd
Reserve Winner Dog
Sunnydaze Running Across The Miles
Winners Bitch
Belquest Marie Claire At Waterberry
Reserve Winner Bitch
Danbridge Ring In The New
April 13-16, 2010
Frederick, MD
Judges:
Mrs Winnie A Limbourne (USA)
Mr Philippe Lammens (Belgium)
Mrs Julie Bedford (New Zealand)
Best of Breed
CH Blackwing Superfine
Best of Opposite Sex
CH Hunt Club Clayview Trixie
Best of Winners
Beechcroft Diva's Midnight Rose
Winners Dog
Moonlit's Drum Roll
Reserve Winner Dog
Fortune's Feet Don't Fail Me Now
Winners Bitch
Beechcroft Diva's Midnight Rose
Reserve Winner Bitch
Tabatha's Galore
April 8-10, 2009
Frederick, MD
Judges:
Mrs Barbara Nowak (USA)
Mr D R Craig (UK)
Ms Lynne Minchella (UK)
Best of Breed
CH Beechcroft Study's Top Secret
Best of Opposite Sex
CH Tabatha's Pristine
Best of Winners
Clearcreek Bonaventure Windjammer
Winners Dog
Endless Mt's Mack Truck
Reserve Winner Dog
Wiscoys Stone
Winners Bitch
Clearcreek Bonaventure Windjammer
Reserve Winner Bitch
Chablais Chocolatine
Judge's Award of Merit
CH Blackwing Superfine
Judge's Award of Merit
CH Paradocs Delians Scrubbing In
Judge's Award of Merit
CH Big Skys Stone Kutter
Judge's Award of Merit
CH Paradocs Tabatha's Caillou
Judge's Award of Merit
CH Janlon's Light My Fire
Judge's Award of Merit
CH Hyspire Adrenaline Rush
Judge's Award of Merit
CH Tabatha's Gala

Judge's Award of Merit
CH Lobuff Hollyridge Kisskadee
April 9-11, 2008
Frederick, MD
Judges:
Mrs Constance M Barton (USA)
Ms Siv Sando (Norway)
Mr Jan Roger Sauge (Norway)
Best of Breed
CH Chablais Brookhill Joss
Best of Opposite Sex
CH Tabatha's Pristine
Best of Winners
Minefalls Tam O'Shanter
Winners Dog
Shadowbrook's Mcsteamy
Reserve Winner Dog
Gateway's Nothin' But Trouble
Winners Bitch
Minefalls Tam O'Shanter
Reserve Winner Bitch
Clearcreek Bonaventure Windjammer
April 11-13, 2007
Frederick, MD
Judges:
Mrs Mary A Wiest (USA)
Ms Margaret Brown (Scotland)
Mrs A Williams ()
Best of Breed
CH Copperstill Fors Fortis
Best of Opposite Sex
CH Lobuffs Puffin At Hollyridge
Best of Winners
Tabatha's Rally
Winners Dog
Sure Shot's Baloo
Reserve Winner Dog
Gaetacreek's Don Diego
Winners Bitch
Tabatha's Rally
Reserve Winner Bitch
Epoch's Dooney Ann Bourke
April 12-14, 2006
Frederick, MD
Judges:
Mrs Betty L Graham (USA)
T R (Tony) Pascoe (UK)
Mrs Anne Lavelle (UK)
Best of Breed
CH Sunset Lubberline Spinnaker
Best of Opposite Sex
CH Sunspot Lace Em Up JH
Best of Winners
Sunspots Galway Celtic Girl
Winners Dog
Windfall Banner's Major Attraction
Reserve Winner Dog
Ginander's Blue Suede Shoes
Winners Bitch
Sunspots Galway Celtic Girl
Reserve Winner Bitch
Tantara Lubberline Teak
April 13-15, 2005
Frederick, MD
Judges:
Mrs Sally J Bell (USA)
Mrs Heather Wiles-Fone (UK)
Mrs E S Jayes (UK)
Best of Breed
CH Lobuffs Puffin At Hollyridge
Best of Opposite Sex
CH Crossfield's Yukon
Best of Winners
Paradocs Tabatha's Caillou
Winners Dog
Paradocs Tabatha's Caillou
Reserve Winner Dog
Hyspiresurshot Juz Bcuz Im Hot
Winners Bitch
Rocheby Replica
Reserve Winner Bitch
Tabatha's Confetti
April 7-9, 2004
Frederick, MD
Judges:
Mr George F White ()
Mrs M Rooth (UK)
J B Rooth (UK)
Best of Breed
CH Chablais John Kaffe
Best of Opposite Sex
CH Tabatha's Desi
Best of Winners
Sunrise Banner At Epoch Farms
Winners Dog
Lobuff Eagle Has Landed At Chucklebrook
Reserve Winner Dog
Paradocs Tabatha's Caillou
Winners Bitch
Sunrise Banner At Epoch Farms
Reserve Winner Bitch
Tabatha's Wiggle